Volunteer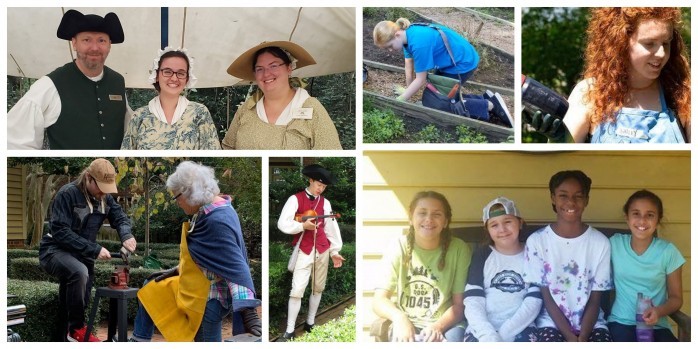 The Joel Lane Museum House is always looking for volunteers to join our team. We love our community of talented, passionate helpers and the variety of skills and experience they bring to the Museum. Be part of the energy at this unique site!
Our volunteers' activities vary widely. We have costumed guides and computer whizzes, grant writers and gardeners. Makers, researchers, and helpers. Some volunteers come once a week; others a few times per a year. Together, they form the community that makes this little museum such an incredible place.

No prior experience is necessary, in most cases. We provide costumes, if needed, and all training.

Check out our opportunities below, then get in touch through the "Contact" form on this page or a call to 919-833-3431. ...Or jump right in by filling out the application attached below and sending it in by mail or to .(JavaScript must be enabled to view this email address).
Docent
The heart of our historical programming, and the core of the Museum. At the Joel Lane Museum House, our historical tours are second to none. We pride ourselves on our engaging, personalized storytelling as much as on our historical accuracy—the script is only the beginning as we encourage our docents to develop their own styles and avoid rote memorization. Our docents are interested in the history, and that makes them interesting.

The result is a uniquely human, immersive tour, and a one-of-a-kind experience.
Hands-on History Presenter/Assistant
Presenter: Learn a short script that keeps the children and adults captivated as they touch the items you present either in schools or at special events, here or at other historic sites. Or teach a craft or demonstrate a skill at one of our famous Open Houses!
Assistant: Join one of our Hands-on History Presenters to take exciting new programs into schools or to other sites, or help with our programs here.
We provide all costumes and training.
Tour Assistant
Assist docents with group tours; no need to learn a script, costume optional. Needed for school field trip tours.
Garden Assistant
Help tend our 18th-century Herb Garden and care for the other fruits and flowers that flourish on our grounds.
Researcher
We never finish our study of history! You can help solve genealogical puzzles, transcribe historic documents, and sift through the archives to discover the stories of the past that we'll tell in our future tours.
Costumer
Hand-sew costumes, aprons, etc. Or help us to maintain our period clothing by mending, laundering, or ironing.
Grant Writing Assistant
Help us obtain more funding to support our historical programming and the preservation of the oldest house in Wake County.
Office/Store Assistant
The essential work behind the scenes: helping with the store, filing, putting mailings together, answering phones, preparing craft materials. There's always something to do, and we can work with your schedule.
Publicity Assistant
Distribute paper flyers to area museums, hotels, and other public sites, or help spread the word online about upcoming JLMH events.
Special Events Assistant
At special events like our Open Houses, we need all kinds of assistance from setting up and taking down tables, chairs, and tents, greeting and counting visitors, to serving punch and selling items from the gift shop.
Choose Your Own Adventure
Do you have an idea or a special talent that you think would be perfect?

Photography, flower arranging, carpentry, fundraising, music, a historical skill or craft, mastery of a foreign language, juggling, graphic design, social media savvy, a fascination with archaeology, an eye for antiques?

Give us a call or drop us a line through the "Contact" section of this page. We are small enough that we can consider what you'd like to propose, and odds are good that we can use your help.
Note: Some volunteer roles may require passage of a criminal background check.
Thank you for supporting the Joel Lane Museum House and our important historical mission!