William Lane's Bible Entries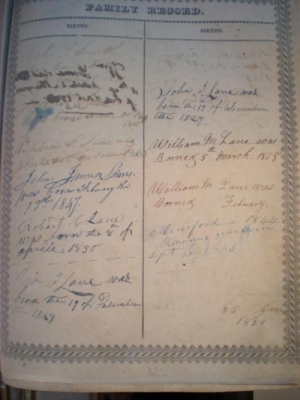 A very generous Lane descendant from Texas visited the house in 1988 and gave us a William Lane's Bible. A William Lane in Wake County married Martha Pasteur on 31 July 1793 at Green Hill near Halifax. Joel's third son William was born Oct.15,1768 and died March 5, 1848. We don't know if these three Williams are the same man.
The William who owned the Bible is said to have married Winnefred Ingram (b. March 2, 1783, d. July 6, 1850). The descendant said the Bible dates from 1831. It went to a conservator in 1989 to be resewn and rebacked.
In it are four handwritten pages with listings of births, marriages, and deaths. Staff of the Hill Library at NC State University kindly photographed the four pages with a high resolution camera. If you would like to receive larger images by email, or close ups, please use the contact button.
The handwriting is hard to decipher. Because of the thinness of the paper and the use of quills for writing, the words on the back of the pages often show through making reading even more difficult. Some of the writing has faded to illegibility. More photos are posted below the transcript.
Transcript:
Page 1
Births [First column]
James W Lane was borned the 10 of March 1821
Samuel C. Lane was Born 27th July 1808
Thomas C. Lane was born the 15th September 1818
William D Coates was born April 2d 1817
Winnifred Lane daughter of Wm Ingram was born 2d day of March 1783
Margret Williams was born Feb the 18 1848
[Second column]
Mary Lane was borned the 9th of April 17(?)96
Phebe E Lane was born the 26th of March 1823
James C Lane was born November 2d 1844
William B Powell was was born the 18 of November 1819
Scratched out: William M. Lane was Borned the 5 of March 1805
Emiline H Lane was born 18 ? 1818
Winnifred
Mary S. Williams 1832
Page 2
Births [First column]
John L. Smith was born 9 of August 1831
Joel R. Lane was born June 20 1841
William S. Lane born 30 October 1840
John James Lane was born February the 19th 1847
Robert C. Lane was born the 8th of Aprile 1830
John T. Lane was born the 19 of Dec the 1827
William D Coates was born April 2d 1817
Winnifred Williams was born Sept 12 1843
____________ 25 June 1830
[Second column]
E _______________ was born the ___ Sept 1844
John T Lane was born the 19th of December the 1827
William M Lane was borned 5 the March 1805
William M Lane was borned February 1844
Winiford Williams was Born Sept 12 the 1843
_______________ 25 June 1830
Page 3
Marriages
[First column]
Nancy Lane was married on the 6 October in the year of our Lord 1842
James W Lane & Phebe Stanfield was married the 18th of June 1844
Thomas E Lane and Mary Azelea Humphreys was married [illegible]
[Second column]
Elizes Powell was married on the 13th of Dec. 1842
F A Polk and Emiline [Lane] Hancock was married July the 9th 1862
Page 4
Deaths
[First column]
James W Lane departed August the 17 1845
John T Lane departed this life 29th day of June 1826 (or 06)
William M Lane died on the 20 (?) of December in the year of our Lord 1845
Franny B. Canton Departed this life March 16, 1876
E W Polk died on the 19 of May 1894 (6?)
C I Lane died the 5 of Sep 1892
[Second column]
W T Peay died the 16 of November 1886
Wm Lane died 5th of March in the year of our Lord 1848 (?)
____M Hancock departed this life on the 19th of Nov A.D. 1864