Descendants
Joel Lane's descendants today are scattered across the United States. Many have visited their ancestral home to research their origins. We invite you to join so many who have come before.
We are also interested in adding to our genealogical databases, so if you have information on descendants you'd like to share, please contact us!
We are particularly interested in finding an image of Joel Lane, as men of his station usually had their portrait painted at some point in their life. Unfortunately, we currently have no information on any such existing portrait for Joel Lane.
The information on this page is not proof of lineage and is subject to change as we continue both our research and study of findings by descendants who are generous enough to share with us.
LANE DESCENDANTS
Joel Lane was born in Halifax County, NC about 1739 and married twice. Both of his wives were daughters of the Revolutionary soldier and statesman, Col. John Hinton and his wife Grizelle Kimbrough.
On December 9, 1762, Joel married Martha Hinton (born c. 1745). They had three children. Martha died on September 9, 1771.
1. Henry (b. March 6, 1764, d. 1797) - He married his first cousin Mary (Polly) Hinton (1766-1813). The "old" portion of the Mordecai House is "Harry's" (nickname) house. They had daughters named Harriet (1788-1848) and Temperance (1792-1874). His descendants lived in the house until the city of Raleigh bought it for a historic park in 1968.
2. James (b. October 7, 1766) - In March of 1787, James bought 700 acres of land on the south side of Crabtree Creek from his father for 10 shillings. His wife was likely Irene Hunter (c.1771 - July 23, 1818, likely the daughter of the well-known Theophilus Hunter and wife Jane Smith), and they probably had three children named Elizabeth Jane Lane, Mary (Betsey/Patsey) Lane, and Alfred Lane. Irene died in Raleigh on 25 July 1818. James Lane probably died in Raleigh 10 Oct. 1807.
3. William (b. October 15, 1768) - A William Lane married Martha Pastieur or Pasteur in 1791 or 1793, but we aren't sure if he is Joel's William. The Lane Family Bible which is displayed in the parlor belonged to a William Lane.
————————————————————————————————-
In 1772 Joel Lane married his first wife's sister, Mary Hinton (born 1755). They had nine children. Mary died on April 3, 1795. Joel died March on 29, 1795.
4. Nancy (b. July 22, 1773) - no known information, not in Joel Lane's will of 1794.
5. John (b. March 6, 1775) - He married Sarah Jones (b 1 Aug 1776), daughter of Nathaniel Jones, of White Plains, Wake County, and left descendants. He moved to Bedford County, Tennessee, between December 1807 and November 1808 and died there in 1864. One son was Joel Hinton Lane (b. 1816 Bedford Co. TN, m. 14 Apr 1847 to Susan Helen Carter, and d. 1854 Maury Co. TN.)
6. Martha (Patsy) (b. February 19, 1778, d. May 20, 1852) - She married twice: first to Dugald McKethen (died 1803); second to Jonathan Brickell (died 1808). Had three children: Alexander James McKethen, Mary Hinton McKethen, and John Hamilton McKethan. Alexander died in Oct. 1819 at age 23. Mary H. McKethen died at age 22 on Nov 12, 1821.
7. Elizabeth (Betsy) (b. August 6, 1780) - She married Stephen Haywood of Raleigh. She died at the age of 24 on March 7, 1805. They had two sons, Benjamin Franklin Haywood (9 Jan 1802-15 Sept 1824) and John Lee Haywood (9 Jul 1804-16 Feb 1836).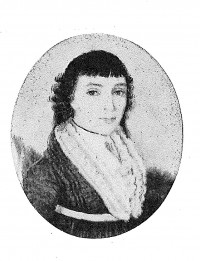 Elizabeth Lane from the 1963 North Carolina Portrait Index. The image is from a miniature on ivory and describes Elizabeth as having "long hair, curls with straight bangs; blue eyes; black dress with white lace and vest; white sash or belt."


8. Mary (b. January 1, 1783) - Not mentioned in Joel's will.
9. Thomas (b. September 12, 1785) - He married his cousin Nancy Lane (b. June 9, 1790, d Dec. 21, 1855), daughter of his cousin and guardian, Martin Lane. Thomas inherited Joel Lane's house, but he sold it to his sister Dorothy's husband. Thomas moved to Giles County, Tenn. (This area was Bedford County before 1836) where he died on March 29, 1832.
10. Dorothy (Dolly) (b. December 13, 1787) - She married Dr. Allen W. Gilchrist on May 29, 1806. She and her husband lived in her father's house from 1808-1813. They had descendants.
11. Joel Hinton (b. October 11, 1790) - He married Mary A.G. Freeman on 4 Jan.1815. He was a volunteer from Wake County, North Carolina, in the War of 1812. Later moved to Tennessee and died in Giles County, Tenn. on June 22, 1832.
12. Grizelle (b. June 13, 1793) – She married George Lillington Ryan, Esq. March 21, 1817 and died March 4, 1868. They had no descendants.